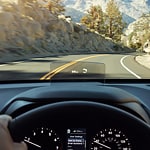 If you are looking for style and comfort in a compact utility vehicle, the Hyundai Kona is waiting for you. The fresh design offers visual appeal and safety all in one CUV. This new vehicle features a low-profile body style that provides a longer wheelbase and better handling. Additional safety features make it a more reliable vehicle for people from all walks of life. Once again Hyundai has raised the bar in safety, performance, dependability, and design.
The forward collision-avoidance assist with pedestrian detection makes in-town driving safer than ever before, even in unpredictable and crowded traffic situations. This combined with the rear cross-traffic collision warning makes parking lots and congested traffic areas safer for you and your passengers.
If you are looking for a compact utility vehicle with the most advanced safety features, impeccable handling, comfort, and stylish design, make sure to test drive the new Hyundai Kona right away.