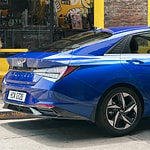 The popular Hyundai Elantra has been designed to look great from every angle, and its interior space also leaves little to be desired. Visit the showroom here at Stoltz Hyundai of DuBois for more details and a chance to test drive a member of the 2023 Elantra line-up today.
The Elantra offers space for up to five within its comfortable, well-planned cabin. Options include leather-accented upholstery, heated and ventilated seating, versatile seat adjustment capabilities and more. You can also take advantage of a cutting-edge onboard navigation system for more confident traveling around DuBois and beyond.
Wireless Android Auto and Apple CarPlay come standard even on the baseline Elantra, so you and your passengers will have no trouble accessing critical information or keeping in touch with your contacts even when you're far from home. A premium Bose audio system that transforms every trip into a fun, relaxing occasion is also available.